Pifco Sweeper Power free Vaccum Cleaner
Replace your electric vaccum cleaner with a pifco sweeper and you can help to reduce your energy bill by quite a bit over the course of a year.
As most electric vaccum cleaners have a power output of 2KW or more it is one of the most power heavy electric appliances in most homes. The Pifco is suitable for cleaning both carpets and hard floors.
It comes with a foldable hook on handle for easy storage.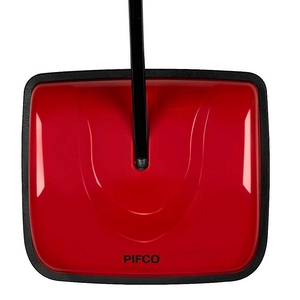 It is light weight and thus easy to use and has an easy to empty dust compartment.
As well as being less noisy than an electric vaccum cleaner the Pifco is generally faster and easier to use than a bulky  heavy vaccum cleaner.
It has 4 Corner brushes to agitate dust particles for maximum efficiency and it comes with a 3 year guarantee.
It works best on smooth surfaces such as wood, ceramic, tiles and marbles. It will also work well on short haired carpets but is not ideal for use on long haired carpets.
Product item dimensions (cm) L:23 W:26.5 H:119
Assembling Pifco Sweeper
Assemble the 3 extension poles by screwing together. 
Attach the handle on the first extension pole
Attach the assembled poles into the base unit and screw to fix securely in place.
Using the Pifco Sweeper
Push and pull the sweeper back and forth to clean the desired area.
To empty your sweeper pull the dust tank flaps apart gently and dispose of the dust and debris in your general waste bin.
Pifco Sweeper Care and Maintenance
1: Use a dry cloth to clean the product including the dust tanks and remove hair and fibres
from the bristles.
2: Do not use abrasive material to clean the device and do not submerge it in water under any circumstances.
3: Do not use device to sweep up any liquids and do not use it on a moist surface.
4: Do not use it on cement or any rough surfaces.
5: Do not use the device to collect strings or fabric fibres.
Related Products