Loft Lifters
Loft Lifters are designed to allow you to insulate your attic or loft, save on your energy bills but maintain the storage space within your attic. 
By screwing these Strong Reinforced Polypropylene elevators into the joists of your attic it will  enable the addition of at least 180mm (7″) of roof space insulation and the subsequent fitting of a walkable floor.
The loft lifters are perfectly stable and adjustable and it is a simple DIY installation process.
The loft lifters come in boxes of 12 pegs which is suitable to cover 1.2 square meters.
Loft Lifter Extender Tubes to create an extra 70mm of space are also now available here
Installing Loft Lifters
1: Position Loft Lifters at 600mm (24") intervals on the trusses (joists).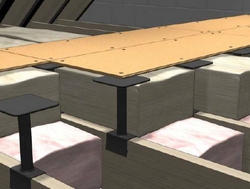 2: Slide or snap the barbed bases over the trusses
3: Drill holes through the bottom of the barbed bases  and secure on trusses with suitable screws (not less than 35mm in length)
4: Secure in the elevated support tubes on the barbed bases by screwing them down firmly onto the threaded upstand.
NOTE that each tube has 25mm cut off marks so that they can be shortened if a lower floor level of less than 180mm is required
5: Repeat this procedure until all of the Elevator Support Tubes are positioned at locations which form a 600mm x 400mm interval grid on the roof trusses. See the diagrams on the underside of the box which will assist in determining the number of boxes of LoftLifters required
NOTE depending on the roof space layout and design, it may be necessary to use battening or other supports against party walls or close to the eaves.
6: Fit in insulation material
7: Push support plates into the top
8: Screw the flooring board into the plates using wood screws
NOTE To ensure a secure and safe walking/storage surface, make sure that any corners of the flooring materials meet in the centres of the LoftLifters Support Plates.
These instructions are intended to act as a guide for the majority of applications, and it may be necessary to vary the method of floor support adjacent to party walls and sloping roof areas and eaves.
Loft Lifters Video
Related Products