Kelly Kettle Hobo Stove
We no longer sell this product
This great Kelly Kettle accessory attaches to the fire base of the Kettle helping you to create a very effective wood fired camping stove.
The Hobo Stove is available in two sizes large and small. The large size can be used in conjunction with the Scout (1.2 Litre) and Base Camp (1.6 Litre) Kelly Kettle Models.
The small size is tailored for the Trekker Kelly Kettle (0.6 Litre)
The Hobo Stove will hold any size pot or pan and is safe and easy to use. It will allow you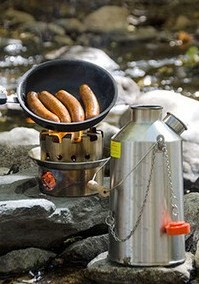 to create a stable cooking surface for pots or frying pans whilst the fire itself is safely contained within the unit.
You can use any type of solid fuel to power the Hobo stove. It is very fuel efficient as the heat is directed towards the pot or frying pan and it will work in all weather conditions
The Hobo stove is made from stainless steel and it is very practical to carry as it will fit neatly inside the fire base of the Kelly Kettle
See Hobo Stove Product Video
The Full Kelly Kettle Range
Related Products