Kelly Kettle Camping Cup Set
We no longer sell the Kelly Kettle Range
These stainless steel set of camping cups from Kelly Kettle are a very useful accessory for any camping trip.
The set of 2 includes a 500ml cup and a 350ml cup. When packing the 350ml cup fits neatly into the 500ml as the silicon coated handles fold around the cups.
The Kelly Kettle camping cups are single wall so they can be used as a small cook pot with the Kettle and Hobo Stove.
Both cups have measurements ingrained on the inside of the cups which makes them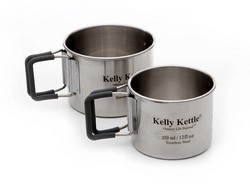 particular useful for outdoor cooking.
The cups also come with a lip guard to protect from hot liquids and are polished internally to ensure they are easy to clean when out in the wild. They are also diswasher safe for when you return from your trip away.
These camping cups are great to use for any trips away but are particular practical when used in conjunction with the Kelly Kettle Set and the Kelly Kettle Hobo Stove as they as so easy to pack.
The 350ml  cup packs into the 500ml, the 500ml into, this fits inside the large cook set, which fits inside the Hobo Stove and this will then fit inside the fire base of  the Kettle set. (Base and Scout models)
Please note: The 350ml Cup will fit inside the smaller 'Trekker' Cook set, but the larger 500ml cup is too large to fit.
Watch Kelly Kettle Camping Cups Video Demonstration
The Full Kelly Kettle Range
Related Products