Emergency Mobile Phone Charger
This product is no longer available but we strongly recommend the Freeloader Pico Emergency Phone Charger
This emergency phone charger can be charged through either the integrated solar panel or its foldway USB Connector.
Designed by Powerplus this emergency mobile charger is also known as the Beetle and also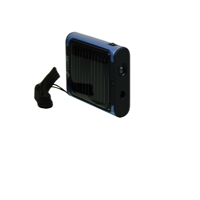 includes a built in LED flashlight.
A great pocket sized accessory which can provide your mobile phone with an additional 30-60 minutes talking time and up to 72 hours standy time when the powerbank is fully charged.
4 Adapter tips (i-Phone, mini USB, Nokia Old and Nokia New) are also included in the pack.
Watch Emergency Phone Charger Video 
Charging Powerbank on Emergency Phone Charger
To charge by through sun or natural daylight position the mobile phone charger with solar panel facing upwards. During charging the green indicator light will illuminate.
To  charge by USB firstly remove USB Connector by gently pulling on the upperside of the
connector. Place USB Connector into USB port on computer and green charging light will illuminate.
Charging Your Mobile Phone
1: Connect cable marked DC to the DC socket inside cap
2: Connect the correct charging adaptor to your mobile phone then connect adapter to your mobile phone.
3: The charging indicator on the screen of your mobile will show as charging.
Emergency Phone Charger Technical Information
| | | |
| --- | --- | --- |
| Item | Parameter | Unit |
| Maximum Charging Current | 20 | mA |
| Talking Time fully Charged | 30-60 | Minutes |
| Standby time fully Charged | 24-72 | Hours |
| Time for full Charge by USB | 55-80 | Minutes |
| Time for full Charge by Sun | 50 | Hours |
| Output Voltage | 5 +/- 0.5 | Volt |
| Max Output Curren | 500-600 | mA |
| Battery Capacity | 3.7480 | VoltmAh |
| Maximum LED Brightness | 1.5 | LM |
| LED LifetimeLight Time When Fully Charged | 50,00015 | HoursHours |