The Search for Ireland's Top Eco Mum
Win a Weekend Away At Glenribbeen Eco Lodge
To celebrate Mothers Day on March 18th Purchase.ie has teamed up with Glenribbeen Eco Lodge in Lismore Co Waterford to offer you the chance to win a weekend trip for two at this wonderful tranquil accommodation.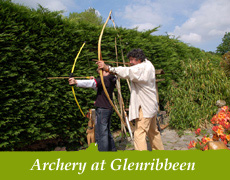 Prize includes the much talked about Glenribbeen breakfast on both morning (Check out the breakfast reviews here on Tripadvisor) and a free archery lesson.
The only terms and conditions is that the winner will have to avail of the weekend away during the months of March, April or July of this year. Other than that it is open to everyone.
So do you know who swears by the term reduce, reuse, recycle?
Does anyone give you lectures about your unsustainable lifestyle?
Do you know someone who got a crush on Duncan Stewart?
Is your mother the Queen of Green?
To enter the competition simply tell us why you or the person you are nominating is Ireland's most Eco Mum! We will announce the winner on Friday March 16th
Winner Draw March 16th