Guess My Weight and Win 50 Euro Gift Voucher
It's hard to beat the taste of home grown tomatoes. After a decent spell of weather this summer we have managed to harvest a fine haul of tomatoes this year.
Purchase.ie celebrates  4 years in business this November and whilst we will be celebrating the cold winter months ahead with the best homemade tomato soup we are offering you the chance to win a 50 Euro Gift Voucher.
This voucher could enable you to lower your energy bills by getting some of our great energy saving products or to get some great eco gift ideas for loved ones this Christmas.
For your chance to win all you got to do is correctly guess the weight of our prize size tomato in the picture in grams. To enter just insert a comment in the field at the bottom of the page.
The first entry to correctly guess the weight will win or the entry closest to the correct weight will be selected if no correct entry is submitted.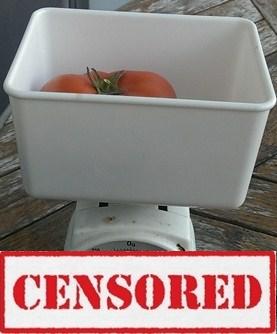 Only one entry per person please and we will annouce the winner on Monday November 11th.
Please don't forget we now have a choice of over 300 products in the Purchase.ie Shop
We are offering 4 Euro off all orders in November to celebrate four years in business.
To get the promotion code all you got to do is sign up for our monthly newsletter here.
If you have bought products from Purchase.ie in the past and are happy with them, are happy with the customer service we provided or both it would be greatly appreciated if you would submit a comment in the Testimonial Section Here.
See winners of our recent energy saving competition here. 
Happy guessing!
Find Out the winning weight and who won