Purchase.ie Introduces More Irish Products to Range
Irish online retailer Purchase.ie who specialise in the sale of energy saving, water saving and waste management products has just added another array of Irish designed and manufactured products to its extensive range.
A 2012 Green Awards Finalist Purchase.ie sells into over 30 countries and now provides over 250 products and are proud to support Irish innovation through a dedicated Irish products section on the website.
According to Colm Griffin of Purchase.ie "90% of the orders place on the site are still from the domestic market but I'm confident that international sales will continue to grow as the product range expands"
One Irish product new to the market is the Brusti Bin which was developed by Kerryman
Michael Prendergast with the aim of making recycling within the home a hassle free experience.
The Brusti Bin allows has three separate compartments within one 70 large 70 litre bin. One for food waste (7 litre) One for landfill waste (7 litre) and the rest is for disposing your recycable dry waste.
What makes the Brusti bin particularly unique is the fact that the bin is vented throughout to help moisture to evaporate and to eradicate bad odours. Essentially there are holes in the base of the outer bin as well as the base of the two 7 litre inner bins.
The product was almost four years in development and was supported through Athlone Institute of Technology with an Enterprise Ireland Innovation Voucher. Brusti Bin is manufactured in Edgeworthstown in Co Longford.
Lock it Tag It is an Irish manufactured pin and sleeve lock out device designed to help
control hazardous energy in industry.
Lock it Tag it started to design their product range in August 2012 and by January of this year they had a product ready to sell. Already employing 5 people Lock it tag it hope to quickly gain customers across Europe and eventually worldwide. The product is manufactured in Co Wicklow.
The Chimney Snug was developed by Dubliner Barry Waldron through the support of Fingal County Enterprise Board.
By placing a chimney snug in an unused fireplace it acts as a draught excluder and also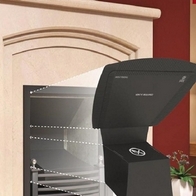 helps you to reduce heat loss from your room and save on your energy bill.
The Chimney Snug is that it comes as a "one size fits all product" so it is unnecessary to measure the flue of your chimney before you purchase.
As it is inserted into the grate of the fireplace as opposed to the flue it is visible at all times. Therefore nobody is going to lit the fire without first taking out the Chimney Snug.
See the Full Range of Purchase.ie Irish Products 
For further information contact
Colm Griffin
Purchase.ie
sales@purchase.ie
087 666 1204