Fathers Day Gift Ideas 2015
Fathers Day in 2015 takes place on Sunday June 21st.
Below we look at 12 Fathers Day Gift ideas for 2015 to suit all budgets and to suit Dads with all type of interests.
You can also win a trip to Kerry and four other great prizes here
Many of the below products are even Irish made or Irish designed so you could get your Dad something practical that you know he will use and whilst helping to support the local economy in the process by buying from an Irish based company, buying an Irish product or both.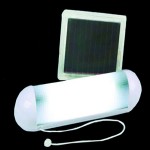 1: Solar Shed Light
Ensure that out buildings and sheds are easily accessible after dark without adding to the energy bills with these great solar shed lights. Simply install your solar panel outside shed and connect to light by running cable through shed. Price €14.95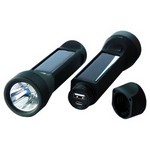 2: Solar Flash Light
Its one thing having the shed light but Dad might need something to light his way to the shed before he gets to turn the light on in there. This strong flashlight recharges by daylight or through usb and doubles up as a powerbank so you can completely recharge a smart phone by attaching it to this flashlight. Price €17.95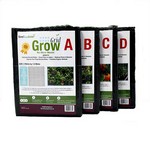 3: Grow Grid
If your father is a keen garden you can help to save him from some back breaking weeding work by presenting him with a grow grid. This Irish made product is a strong ground sheet with holes punched at intervals which prevents weed growth, reduces pest and diseases and will improve crop success rates. Comes in different sizes to suit all kinds of plants. From €14.95
4: Ladder Stabiliser
If Dad likes to do jobs around the house you want to ensure that he is safe if carrying out work at a height. The Ladder Stabiliser secures the base of your ladder giving you added safety and protection on the ground so that you can focus on the job on hand without the worry that the ladder might slip back or fall to the left or right.Another Irish designed product. Price €34.95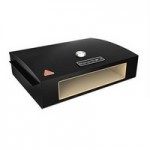 5: Outdoor Pizza Oven Box
You can ensure Dad is the toast of the town with this new award winning product which is placed on top of barbecues and allows you to cook a gourmet stone baked pizza within 3 minutes. You can also bake break, roast vegeatables and cook meat or fish with this Bakerstone oven. Price from €119.95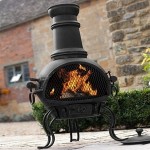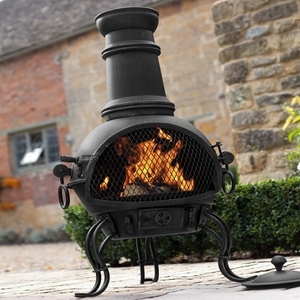 6: Chimenea
If Dad is a bit more of a traditionalist these durable steel chimeneas with a slide in chrome barbecue grill might be more his kind of product. Great for creating a warm ambience in your garden on summer eveings. Price €69.95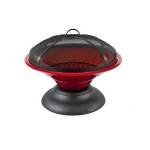 7: Firepit
Available in Red, Blue, Lime Green and Orange these moda enamelled firepits from La Hacienda will allow you to effectively heat your patio or outdoor garden area whilst adding some colour and style to your outdoor surroundings. Price €74.95
8: Solar Powered Water Butt Pump
If your Dad decided to get in on water conservation with water charges on the horizon he sometimes regret investing in water butts for the simple reason that life was easier using the garden hose that drawing water to the plants with a watering can from the water butt. This pump will allow him to attach the hose directly to the water pump and revert to an easier way of watering whilst ensuring the plants still enjoy recycled nutrient heavy rainwater as opposed to mains water. Price €199.95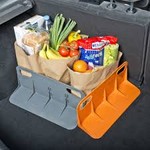 9: Stayhold Car Boot Support
Another clever new Irish designed product the stayhold grips onto the carpet in your car boot and holds items securely against the side walls. This will ensure that broken eggs in the grocery bags and the smell of sour milk in the car are a thing of the past. Available in grey or orange colours. Price €9.95
10: Bin Strap
When we say that wind can be a big problem with Dads all over the country we are talking about bins blowing over of course and litter strewing across your property. Sometimes the litter might spread to angry neighbour or lead to local authority fines. The Bin Strap is another Irish designed product which ensures that even if the bin does tumble over the contents will remain in the bin. Price from €12.95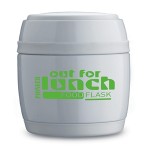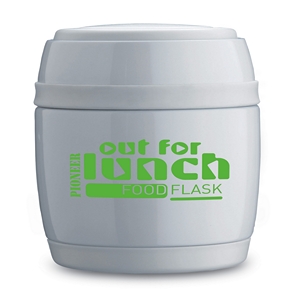 11: Out for Lunch Food Flask
We ain't expecting you to make the lunch for him everyday  but you can provide him with the right equipment to leave home every morning with a hot nutritious lunch which will stay hot all day during the winter or healthy salads which will stay perfectly cooi during the summer. If you got him eating salads what next? Palate classes? Price €19.95
12: Vektra Eco Kettle
Is Dad one of those blokes that might boil the kettle 5 times before getting around to actually making that cup of tea? If so this Vektra kettle might be a good idea. This flask style kettle comes in a number of different colours but once the kettle is boiled the water inside remains boiling for up to 4 hours. Price €94.95
Fathers Day Gift Ideas 2015 Related Posts
Find out how to get discounts on everything all May 2015