Eco Garden Tips
St Paddys Weekend usually marks the beginning of the gardening season in Ireland and thankfully the good weather helped make it a great weekend to get started in 2012.
I visited the wonderful Ballyseede Garden Centre in Tralee over the course of the weekend and it was buzzing with loads of people looking forward to the summer season ahead.
Not that I'm ancient or anything but in my younger days in Kerry, St Patrick's Day usually meant the beginning of the potato setting season. I fondly remember warming my hands and drinking tea from old glass bottles of Nash's Red Lemonade whilst chewing on a nice ham sandwich midways through a tough day setting spuds.
So how can we garden in a more eco friendly manner and save ourselves some money in the process? Below I have outlined some green gardening tips to help you along your way.
1: Conserve Water.
Did you know that on rain free summer days in Ireland it is estimated that up to 50% of all mains water used is put towards watering the garden?
With water rates eminent it is vital that we change our attitudes towards this carefree use
of water. Installing a Water Butt Kit in your garden will allow you to collect rainwater from the down-pipes of your house. This water contains more nutrients than tap water and is better for your plants and garden grass.
What sometimes puts people off Water Butts is that they dread having to revert to using the watering can having spent many hose happy years gardening. There is a solution to this in a Solar Powered Water Butt Pump. Not only is this eco friendly in so far as it doesn't require any mains power but it is also powerful enough to wash the windows, clean the paths and patio and even wash the car.
There is also a Fully Submersible Water Butt Pump available which is battery powered and can even be used to clean out the fish tank.
It is also important to move over to water saving hose nozzle when gardening. These
nozzles are aerated. This essentially means that only half the water comes out when compared to a standard hose nozzle but it comes out at twice the pressure meaning that it essentially has the same spray power. The water saving hose nozzle has seven different spray patterns from mist (great for seedlings) to full spray (great for washing the car)
Finally on the water conservation topic use a moisture meter to help you prevent over-watering your garden plants. Simply insert your meter to the roots of the plant and water until it reaches the moist level.
2: Eco Weed Control
You can help to prevent weed growth by shredding untreated wood and leaf waste around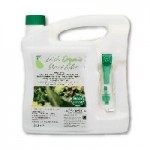 the garden and converting them into chips for your garden beds. If you do need to use a weed killer please use an organic type. Why not go a step further with Irish Organic Weed killer. This is available in either a concentrate or ready to use formula. This non-selective weed killer is the safest to use if children or animals such as cats and dogs are likely to be in the vicinity. You will also be supporting Irish innovation in the green sector of course.
3: Solar Garden Lighting
As the quality of solar garden lighting continues to improve there really is no excuse  
anymore to use mains powered outdoor lighting in your garden.
Stainless steel solar garden lights provide up to 20 hours of light when fully charged and come complete with a ground stake so they can be easily installed in your garden.
If you are looking for a strong outdoor light for your garden do consider the remote control operated Astron Solar Floodlight. Unlike the regular motion detected outdoor solar floodlights the Astron can stay on constantly for up to 12 hours a night and best of all it won't add a cent to your electricity bill.
Sun Jars are a wonderful solution if you are looking for a colourful decorative feature in your garden. Available in traditional Yellow, Blue or Pink the Sun Jars are powered by natural daylight and again won't add to your energy bill.
We have also recently added Solar Garden Globes to our product range. These are available in four colours and made from hand blown glass. Definitely a colourful feature which will help your garden stand out in the neighbourhood.
Other Green Garden Tips
Ideally and especially if you have got a small garden you should consider reverting back to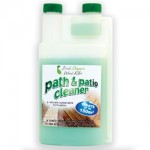 the old style motor-less push lawn-mover. No fuel costs and the added little exercise is completely free! If you do continue to use the motor based lawnmower do remember to take simple steps like using a funnel when refilling the tank.
Don't bag grass clipping instead allow them to return nutrients to the soil rather than take up landfill space.
When you get your spring clean in motion this year and the paths and patio finally get a dust down consider using the chemical free Irish Organic path and patio cleaner.
Got any good eco garden tips? Please let us know by adding your tips in the comment field below.