Christmas Gift Ideas for Children 
From educational toys to teach children about alternative sources of energy to accessories to help them be more visual in traffic when commuting there is a wide range of top gift ideas for Christmas available. Best of all the vast majority of them don't require batteries which ultimately means that many a Christmas Day tantrum can be avoided.
Below see our  top Christmas Gift Ideas for the Kids in 2013
New in 2013 Children Christmas Gift Ideas
A 14 in 1 Solar Robot Toy Set. Create up to 14 different toys with the materials in the box from a dog bot to a boat bot.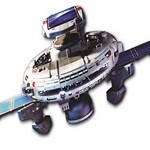 If space is more their thing that robots then the 7 in 1 Solar Space Toy Set makes for a nice alternative. They can make
And the Old Favourites….
The Little Motorist
If automobiles are his or her obsession one can choose from a wide range of wind-up, solar or water powered cars.
The Slot Car Racing Kit uses hand generated controls to move the cars around the track. The faster you wind the control the faster the cars will go.
Watch video below on the Slot Car Racing Kit

The Grasshopper is another product in our toy car range. This one is powered through solar power or by winding it up and comes as a Self Assembly Kit.
If your little ones have already indulged in solar and wind-up cars then one powered by water might excite them somewhat more. Choose from the large 4 Wheel Drive Car or the pocket sized Mini Water Powered Car
The Little Engineer
For those patient little souls with a keen interest in putting things together one can choose from a wide range of transformer style Eco Educational Toys.
The Butterfly is a 6 in 1 Toy Model Set which runs on hybrid solar or by battery. Hours of entertainments are guaranteed with this device transforming it from a truck to a racing car and from a dumper truck to a bulldozer.
Watch Video on the Butterfly Solar Model Kit
The Scorpion is a 3 in 1 toy that also transforms into a Robot or a Tank. Simply please under the sun or a desk light to see it move.
With the Chameleon Solar Toy Set you can build a boat, a hovercraft or even a solar puppy.
The Little Carpenter
If your little one is showing all the signs that carpentry will be his or her thing then you might want to consider the wide range of self-assembly Solar Wooden Toy Sets. All these model sets are made from laser cut wooden panels which can be assembled by following the included step by step instructions. One can choose from the Aeroplane, Helicopter, Windmill or Watermill set.
The Little Musician
If you think you might be responsible for the upbringing of the next Justin Bieber or a little Taylor Swift resides in your home one might consider something like a Solar Music Box or perhaps Drumstick Pencils. A Solar Powered Radio which can also be charged by winding up or through USB may also go down well in the Christmas Stocking.
See the Drumstick Pencils in Action
The Little Adventurer
If camping is something that excites the younger members of your family a Wind-up Camping Lantern might be the very thing to keep them happy after dark whilst also saving yourself a fortune on replacement batteries.
Keeping the Independent Little Ones Safe
If the children in your home regularly commute to and from school or sports practice independently you will no doubt feel more relaxed if assured that they are properly lighted. A Solar Powered Bag Light can be worn over the shoulders and around any bag when one is on the move.
See Video of Bag Light
One might also have an interest in an Eco Bike Light with an in-built emergency phone charge facility.
For those that like the security of a bit of light in the bedroom at night before drifting off to sleep the Moonlight is well worth consideration. When you tell them that it uses the same technology as NASA use to light the cockpits on spaceships they are bound to be impressed. The fact that it will also help to reduce the energy bill might be something you keep to yourself though!
Christmas Gift Ideas for Kids Related Posts
Save on Christmas Orders and Raise money for Philippines Typhoon Fund
Practical Christmas Gift Ideas to Suit All Budgets
Christmas Online Shopping Deadline Dates 2013