Camping In Ireland 2014 
After a great spell of weather in June and July "yours truly" decided to get the cobwebs off the tent for a trip to Cavan for the Bank Holiday weekend.
All excited, only shorts and t-shirts were packed as I took a glass half full attitude towards the weekend weather that awaited us on the trip.
Of course we had torrential rain for 2 full days and there was the fun of waking up in a puddle of water as the tent simply had enough of the miserable weather.
But don't be put off by my unfortunate experience though.
Below we look at a few places to go on your August camping excursion and you don't even have to bring your own tent to these.
We also look at some of the products you might wish to bring with you on your trip.
Camping in Ireland – Where to Go?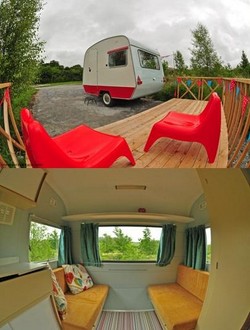 Caravantasia a brand new site which opened only last month. It is located in a quiet spot
in South Tipperary between Cashel and Kilkenny with stunning views of the Galtee mountains.
If not a fan of the tents you will  be glad to know that the campsite has 6 vintage caravans from the 60s and 70s restored to original glory.Each caravan sleeps between 2 and 4 people.
Lets declare a minor interest in Caravantasia at this point!
They are clients of ours. The entire site is off-grid. The toilets, dressing rooms, hot showers and green house are powered by solar energy.
Purchase.ie supplied all the solar panels and lighting accessories to ensure the site is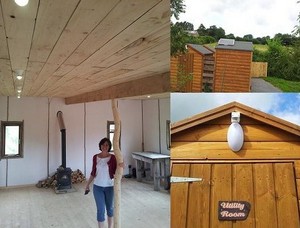 properly lit inside and outside and so that presentations can be shown in the rather cool green house on the site.
The site by and large caters for business events such as team building weekends and private parties such as family reunions and hen parties but it will also be available for individual bookings on some weekends.
To find out more about  go to the website www.caravantasia.com or contact Heather on 086 334 8141.
Another favourite of ours (and a customer) is Pure Camping based in Querrin on the Loop Head Peinsula in Co Clare and close by Kilrush and Kilkee.
You can pitch your own tent for as little as €10 on this great site and there is no nonsense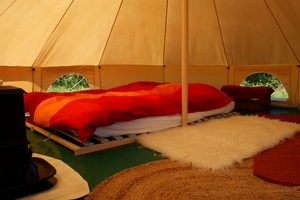 of charging extra for showers which unfortunately far too many camp sites in Ireland rather greedily decide to do.
Alternatively you can treat yourself to a night in a furnished cozy Bell tent which is equipped with a stove.
There is also a striking Geodesic dome on site which provides common space for campers and an old cow shed has been converted into a Yoga centre and there is regular yoga classes during the week and at weekends.
For more information go to www.purecamping.ie or call 065 9057953
What to bring with you when Camping?
Be sure not to forget the tent itself, the pegs, ground sheet, mallot and bedding or it might be a very long trip but here is a very other things which might prove to be very useful.
Camping Lighting
24 LED Super Bright Camping Lantern
At some point during your trip it is inevitable that darkness will fall and you will be glad to have this professional level camping lantern at your disposal when it does. Designed by Powerplus and known as the Bear it comes with adapters so it can be charged by plugging it in to a regular three pin plug, charged off the car battery, it has a double solar cell for daylight charging and a wind up handle to charge manually.
If on a budget there is the Powerplus Falcon which is 8 LED but includes a built in Radio or the 6 LED Powerplus Owl which is less than 20 Euro.
Our new 7 LED Solar Hanging Light, the Powerplus Kangaroo is also well worth checking out as it retails at just €14.95
Camping Power Supply
Pedal or Mains Charged Power Bank
Known as the Powerplus Cougar you can charge this great power bank off a mains supply before you go on your trip or get a little exercise on the trip by using the pedal charge facility.
Plug your laptop or and three pin electrical appliance into the cougar or indeed any usb charged appliance into the cougar. You will even get an hour and a half of TV out of this power bank when fully charged if you can't go without it for the weekend.

The Powerplus Cobra is a little easier to carry around with you on camping trips and can be charged through your laptop before you embark on your trip and will solar charge with daylight. It will ensure smartphones and other USB appliances are in working order whilst away.
At less than 20 Euro the Freeloader Pico also offers an effective emergency phone charge facility when on trips away at a very good price point.
Camping Cooking
Developed by a Mayo family no gas or batteries are required to use your Kelly Kelly. Instead simply use sticks, pine cones, dry grass or any dry natural burning materials to boil hot water and create meals.
Comes in various sizes to suit the number of people in camping party and they have also just introduced a new Hobbo Stove and Camping Cups to their product range.
Camping Entertainment
Solar, Wind Up or Mains Charged Radio
Keep in touch with what is happening in the world whilst away with this smart scan radio which even has a built in flashlight and emergency phone charge facility.

The brand new Solar Recycler can help you make it a proper eco educational weekend and you can even use some of the waste materials from the trip to create some wonderful solar powered toy model sets.
Check out some more eco educational toys here