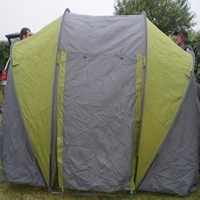 Camping Tips for Families and Festival Goers
I returned recently from a very refreshing camping holiday in France. I got to admit I was skeptical about it before going but after 2 weeks I definitely rediscovered the childhood buzz I got out of camping.
Of course there was the occasional bickering when trying to get the tent standing before dark after a long day travelling in the car. Then there was the mosquito bites on day 2 (my fault I know I should have taken precautions). All in all I got to say it was one of the most enjoyable holidays I have experienced in my adult live. If going just make sure to be prepared and bring all the camping accessories.
Some of you might be considering a nice quite family camping trip in Ireland or abroad or the festival goers amongst you might be relishing a not so quite outdoor camping experience. Whatever type of camper you are it is important to be organised in an effort to reduce stress levels. You are doing it to relax and enjoy yourself after all.
Let there be Light!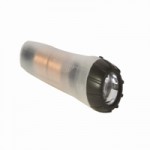 Arrive late at the camping site. Realise the only pitches available in the site are in places where there is little or no light. Disaster! Hang on a minute, problem solved isn't that old dinosaur, the battery powered torch is in the boot? It's in the boot alright but the batteries are gone dead! Mark my words a fight is on the way!
A LED Shake torch requires no batteries and as the name suggests you just shake it to power it.
You might find however that you need better light than the shake torch when putting up the tent.
There is the 6 LED Wind-Up Camping Lantern. Wind it for one minute and get 25 minutes of light (enough time to get the tent up hopefully).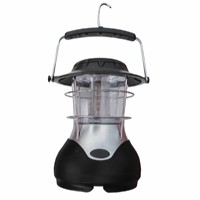 Alternatively invest in the professional grade super bright 24 LED Camping Lantern. This can be charged by wind-up or through the double solar panel on top of the lantern. You can also make use of that cigarette lighter socket in your car on route to the camp site by charging the 24 LED Camping Lantern thorough the included 12V DC Charger or if you are very organised charge it the night before you leave through the included wall socket adapter. When fully charged it will give a warm bright light for 4 hours.
Let there be Sound!
So you are off on the camping trip for the weekend but you really don't want to miss anything that happens in the big match on Sunday. Remember that Sunday you were on the beach and your team were a point down in injury time? Then all of a sudden they were awarded a penalty! What happened next? The batteries went dead on the radio of course and you had to wait hours to find out what happened! You need a radio that won't let you down. This Solar, Wind Up or USB Charged Radio is the solution. It's even got a built in flash light.
Let there be Food!

One thing you surely will appreciate on your outdoor adventure is a nice cup of tea and a bit of grub. The Kelly Outdoor Kettle Kits are a great Irish made solution for all your cooking needs and you don't no need batteries, electricity or gas to run them. Instead all you need is naturally occurring fuels such as sticks, pine cones or dry grass to create a fire within the kettle. The kettles come in Aluminum or Stainless Steel and will boil water within 3-5 minutes. They include a full stainless steel cook set and a pot support so you can even have the auld boiled spuds when you are away.
Let there be an Escape Route!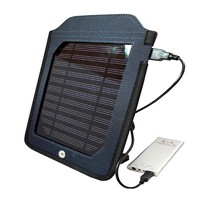 So the family trip got off to a happy and friendly start but after a few days you are sick of the sight of them and they are starting to drive you demented.
You need to escape for a while and let some steam off by letting your friends know just how annoying they are. You need to use your phone!
A Solar Charger and Powerbank Kit charges most mobile phone, Iphones, iPods and indeed most small portable appliances. It even comes with Iphone, Nokia, Female USB, Mini USB and Samung adapter tips.
Let there be Hygiene!
Your enjoying the great outdoors but you would feel a lot better if you or the kids didn't look so damn scruffy. If only you had clean clothes! A Pedal Powered Washing Machine. Is just what you need. Ideal to use on light clothes such as baby wear and underwear. To use simply fill with water and then add clothes, a little washing powder and pedal gently for a few minutes. Tell your friends when you get back from the trip that you done a bit of cycling while you were away!
So do the camping checklist, have the camping supplies and don't forget to watch out for the mosquitoes!