So when are Water Rates Coming into Ireland?
Back in April the coalition government partners seemed to be at odds with each other over the impending introduction of water rates in Ireland.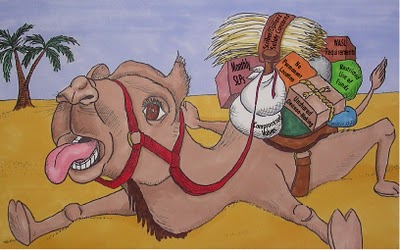 Fine Gael representatives are saying one thing Labour representatives another. Could water charges be the straw that breaks the back of this coalition government?
We now know that Irish Water have commenced recruiting 1,600 people to install the meters and that the installation will commence very shortly.
We also know that we won't be paying for water until January 2015. How much we will be paying and how it will be charged is yet to be announced however.
One thing that seems certain is the more you use the more you will pay. So how can we conserve water and save money?
Below we look at some of the top products which can help you overcome this issue.
Water Saving In the Bathroom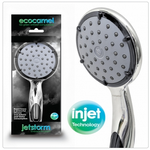 Ecocamel Aerated Showerheads
Aerated Showerheads are designed to restrict the amount of water that flows from your shower unit without compromising the water pressure. Basically a restricter is placed on the bottom of the showerhead and the heads have a hole in the neck. As the water passes through air is sucked into the neck and what comes out is effectively a mixture between air and water. Therefore even though less water is coming out the pressure and your showering experience remains the same.
Most showers produce about 12 litre of water per minute. With the Ecocamel this will reduce to about 7 litres per minute. There is models available to fit both Hose fittings and Fixed Wall fittings. Models come suitable for both normal and electric showers.
Instant Bathroom Hot Water Tap
When you are relying on hot water to flow from your bathroom taps from an immersion feed it can take quite a long time before the water flow is hot.These electric hot water taps ensure that within 5 seconds of turning on the tap you got hot water running. It will also of course ensure you will save on your energy bill as you are only charged for what you use as opposed heating a full immersion and sometimes only using a small amount of it.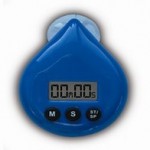 Showertimers
There is a wide range of showertimers available. They won't switch the water off on you when the shampoo is still in your hair but they will make you more conscious of the time you are spending showering. Choose between a range of Digital Showertimers, One-Touch Showertimers or even a Water powered Showertime Indicator with an integrated colour changing LED Light. This fits on to the Faucet of the shower and changes colour every four minutes.
Works on a similar basic to the Ecocamel Showerhead. Basically the amount of water flowing from the bathroom tap is restricted to just 4 litres of water but the water pressure is not compromised.
Toilet Tummy
A modern toilet cistern usually has a 6 litre tank fill and many have a dual flush bottom option. However older cisterns have a 9 to 12 litre flush which wastes a huge amount of water. To counter this many people fill a plastic bottle with water so when the toilet flushes water still remains in the cistern and the ball cock doesn't travel all the way to the bottom of the cistern Therefore less water comes back into the cistern. The toilet tummy is a custom made product which you fill with water and fits neatly onto the inside of the cistern.
Water Saving in the Kitchen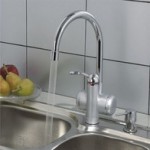 Instant Hot Water Tap
Similar to the Bathroom Hot Water Tap the Kitchen Electric Hot Water Tap has a 180 degree swivel feature and can help you losing hundreds of litres of water whilst waiting for hot water to flow.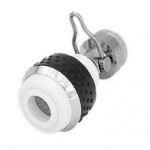 Kitchen Swivel Tap Aerator
Designed to be placed on your kitchen sink tap and restrict the water flow to just 6 litres per minute. Swivel effect allows you to direct the water exactly where you want it to go leading to faster and more convenient rinsing. On average it is estimated that a typical household will save about 30,000 litres of water per annum by inserting one of these on your kitchen sink.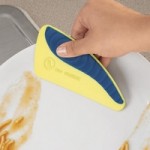 Dish Squeegee
This silicon wedge is used to scrape off ingrained food on plates, pots etc before placing them in the dishwasher. A great alternative to wasting water pre-rinsing in the sink.
Water Saving in the Garden

Water Butts
We get plenty of rain in Ireland so why not turn this often perceived negative into a positive and install water butt on the downpipes of our homes and collect the rainwater? Instead of using the garden hose to water your plants our wash the car use the water from your Water Butt Kit.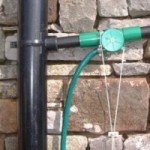 Greywater Recycling Kit
This device allows you to recycle shower and bath water to your garden hose pipe from a sealed mains drainage. Easy to install and no need to alter existing pipework.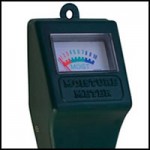 Moisture Meter
Sometimes we are guilty of not watering our plants but equally we are often guilty of overwatering them. The moisture meter is insert to the root level of the plants and gives you a reading on whether or not it is necessary to feed the plant with water.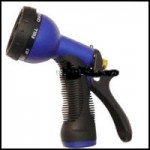 Water Saving Hose Nozzle
An unrestricted garden hose can flow at a rate of up to 35 litres per minute. This water saving hose nozzle will restrict the water flow to a maximum of just 10 litres per minute without compromising the water pressure.
Water Rates Relevant Links
Countering the Water Meter and Saving Water