Saving Money on Energy Bills and Hot Water
Most of us have childhood memories of getting into "hot water" with our parents for leaving the immersion on all day. If used carelessly heating water can be one of the biggest contributors to energy bills and with energy rates due to rise again from October 1st we look at five tips on how we can help save money when comes to hot water usage.
Tip One: Use Water Saving Showerhead.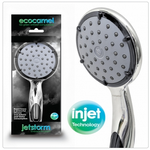 Water saving showerheads from Ecocamel restrict the water flow from your shower to a maximum of just 8 litres per minute without compromising the water pressure or how much you enjoy your showering experience.
These water saving showerheads have a restrictor on the fitting part but also have a air hole in the neck of the showerhead.
When you turn on your shower less water is allowed to flow through but then air comes through the neck of showerhead allowing it to expand. Effectively what is coming out is have air and half water.
Models come to suit hose and wall fittings.
Watch Energy Saving Hot Water Tips Video
Tip 2: Use an Electric Tap in Your Kitchen and Bathroom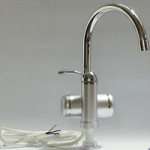 These Instant Hot water taps allow you to produce hot water instantly without the new to turn on your heating or your immersion.
Turning on your immersion to heat a 55 litre tank can be frustrating as it takes quite a while before you have access to the hot water. It is also expensive if you are heating a full tank yet you only require a few litres of hot water. If the tap is a long distance from the boiler then you waste a lot of cold water before the hot water starts to flow from your tap.
Models are available for both Kitchen Taps and Bathroom Taps and they can help you save significantly on your energy bill.
Tip 3: Use Water Restrictors on your Taps.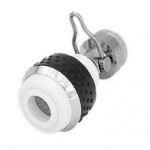 Taps will on average produce up to 15 litres of water per minute. Similar to the Ecocamel Showerheads, Tap Aerators can be fitted to your hot water taps to help restrict the water flow without compromising the water pressure. They are available to restrict the flow to 4 litres per minute (suitable for bathroom taps) or 8 litres per minute suitable for kitchen taps. You can also get a special Kitchen Swivel tap version which allows you direct exactly where you want the water to flow. This allows you to rinse and wash pots, plates and pans faster and use less water..
Tip 4: Boil only the amount of water you require when using Kettle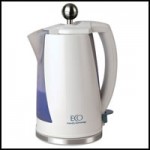 At about 3KW on average kettles are one of the most powerful electrical appliances in the home and if used carelessly can add significantly to your annual spend on energy.
Many of us are guilty of filling the kettle to the top and boiling it when we only want to make one cup of tea or coffee. The more water you boil, the longer it takes and the more it adds to your energy bill.
Using an Eco Kettle can help you to solve this issue as it has two separate water chambers. When using fill kettle and release only what you need there and then to the boiling chamber before using.
The Eco Kettle is available in White,  Black or Chrome and
Tip 5: Consider a long term investment on getting constant free hot water.
Installing Energie Solar Water Heating Panels would be a more all round long term solution when it comes to hot water. Hot water is created through solar powered panels which sit on the roof of your home. Energie guarantee that your home will have all the hot water you require all day every day no matter what the weather through this system. Such is the reliability of this product it featured on the RTE Show About the House presented by Duncan Stewart in 2012.
The cost of such a system starts at around €4,500 (depending on the size of your house) and is a great long term investment in reducing your energy bills.
To arrange for a sales representative to call to your home, do a site inspection and give you a quote to getting the Energie system installed on your home please contact us on 01 8428187 or email your contact information to sales@purchase.ie.
Energy Saving Hot Water Tips Related Links
Energy Saving Home Heating Tips