Eco Multi-Surface Wipes
These anti-bacterial multi surface wipes from Ecozone are 100% biodegradable.
These ecozone wipes come in a pack of 40 and have an unusual be very sniff friendly aloe vera and cucumber scented fragrance.
Tough on grease and grime these eco friendly wipes are 100% alcohol free and are save to use on the vast majority of hard surfaces in your home.
With an easy to open and re-sealable packet, your wipes will stay fresh and moist ensuring an easy clean from the first to the last wipe.
These wipes will kill 99.9% of bacteria and eliminate surfaces in your home of any unwanted e.coli, listeria, salmonella & MRSA that could be lurking.
No need to use a dry cloth to finish up as these wipes have a fast-dry action formula, guaranteeing your surfaces are left clear, sparkling & sanitised.
Advice: not to be used for personal hygiene or on porous surfaces or fabrics.
How to Use Multi Surface Wipes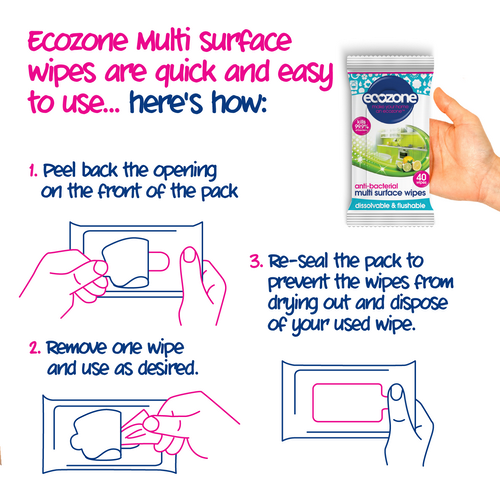 Related Products