Standard Bayonet LED Biobulb
These standard Bayonet (B22) LED Biobulbs from Ecozone come in two styles. One emits a white light similar to natural daylight. The other emits a warm glow ambient light.
Both style have a lighting output equal to a standard 100 Watt bulb whilst only adding 14 Watts to your energy bill (a saving of 86%)
The daylight biobulb is particular useful when knitting, sewing, writing or reading. It is very popular for people looking for a mood boost on dark winter evening or those living in basement accommodation where natural daylight is pretty much non existent.
The ambient bulbs provide similar light to halogen bulbs without the same energy costs. Great to use when doing standard household chores or just having a nice relaxing time in a cosy home.
These Standard B22 biobulbs produce up to 1500 lumens, have a colour rendering index of 80 and are non-dimmable and flicker free.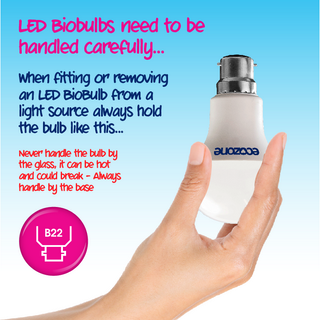 Related Products