Solar Filament Bulbs LED String Lighting Kit
This great Globe style Patio Hanging Lights are Solar or USB charged and emi a beautiful warm white light. Each set has 25 bulbes (plus 2 spare) and stretch 25 feet in distance.
LONGER LIFESPAN AND SAFETY: 30,000 hours life cycle, 10 times more than Tungsten bulb. IP64 Waterproof, safe even you touch the solar panel.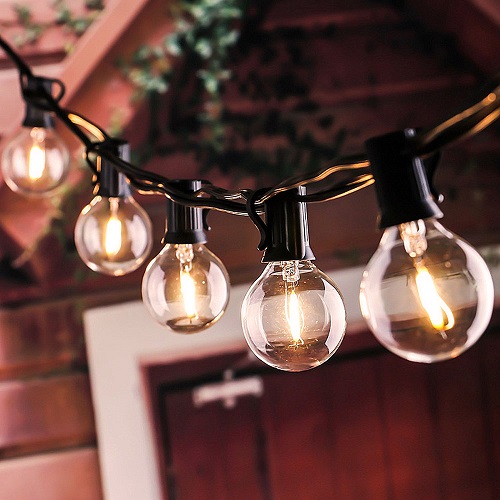 SOLAR POWER ENERGY SAVING AND LIGHT SENSOR: Auto-turn on or turn off by light sensor technology. Auto charge during the day (A full charge takes 8 hours of sunlight), and it will auto turn on during night (can be used for 8 hours).
DUAL CHARGING OPTIONS: 4400 mAh super large-capacity solar panel with USB charging port. 8 hours charging time for solar panel and 4 hours for USB charger. The lights "ON" can last for 8-10 hours if it's fully charged.
AMAZING LIGHTENING MODES: 4 lightening modes designed, the quick flash, steady light, slow flash and pulsating light. And it's easy to set up.
INDOOR/ OUTDOOR STRING LIGHTS: G40 patio lights cast a warm white glow completely changed the mood. These lights are perfect for weddings, birthday parties, and other gatherings.
Solar Filament Bulb Lighting Kit Package Content
1 x 25ft String LED Lights; 1 x Solar Pane
2 x Spare LED Bulbs; 3 x Screws & Screw Drills
Solar Filament Bulb Light Kit Technical Specifications
Power Type: Solar or USB Rechargeable
Built-in Battery Capacity: 4400mAh
Charging Time: 8 Hours (By solar panel) or 4 Hours (USB Charge)
Run Time: 8-10 Hours (Fully charged)
Related Products