5 Watt Solar Charger and Power Bank
This new powerful all in one 5 Watt Solar Charger and Power bank from Powerplus is known as the Crocodile.
A portable 5 watt solar charger and powerbank with a neoprene protective pouch and a stand for the solar panel.
This compact design fits easily into your backpack and works with replaceable 18650 lithium batteries.
The display shows the battery status, charging port and charging current.
It has interchangeable batteries making it one of the most eco-friendly powerbanks on the market.
The Crocodile works with an external solar cell rated 5W which can provide an effective output of 3,5W in sunny outdoor conditions.
The powerbank and solar cell can be stored in a neoprene protective pouch, which also can act as a stand for the solar cell to optimise the charging angle towards the sun, which improves the charging performance of the solar cell.
See Crocodile Demonstration Video 
Powerplus Crocodile Features, Benefits and Specifications
Display showing battery status, charging port, charging current.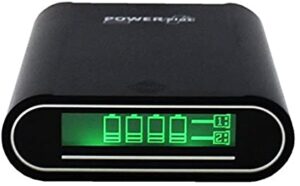 Replaceable 18650 Lithium batteries; (most ecofriendly powerbank)
Lightweight 5W solar cell. Effective output 3,5W
Unique triple charging input:micro USB - lightning - type C USB
Neoprene pouch/stand with outer storage space for powerbank.
Double USB output 2A and 1A
• 4 x 18650 Lithium Ion 18650 batteries 10.400 mAh / 38 Wh
Overcharge/discharging protection
Reverse polarity protection
 Zero voltage / high voltage output protection
 Intelligent: detects optimal charging current
 Maximum input: 0.45A per port / 1.8A max.
 Total charging output current 2.2A.
2.2A max port 1 and 1.5A max. port 2
Powerbank capacity: 10.400 mAh
Dimensions: L17.5 x W4.5 x H33 cm