Splash Mat
Replacing your floors and carpets can be an expensive business.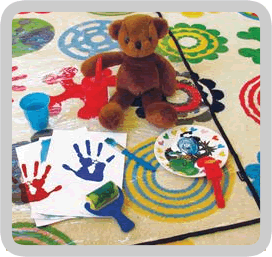 Using a splash mat will go a long way in conserving you flooring surface and avoiding smelly carpets.
We no long sell this product
As we all know all only too well small people aren't the tidiest of eaters or indeed painters! The splash mat is ideal for feeding, playing, water activities, painting and picnics.
The splash mat is made from a fully wipeable fabric with a polypropylene edge to prevent tears.

It's great under the high chair for baby, as a table covering, floor and carpet protector, as a general play mat or even a picnic mat.
Ideal to protect you from spills and splashes with paint or food under the high chair or kids painting table.
The splash mat is completely see through and on use you with see very clearly why it proves to be a good investment!
Dimensions 135cm x 135cm