Solar Security Light
This professional grade solar security light comes with a integrated PIR sensor light.
Ideally this all weather solar security lighting system is designed for busy locations such as shopfronts, public passage ways or busy parking lots or driveways
This commercial solar security light is powered through a huge 2.5watt solar panel and and the light is projected through ultra bright 45 LED light bulbs.
It can therefore provide lighting coverage of 100sq metres. This is typically the same type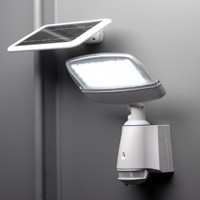 of lighting coverage as that of a mains powered halogen light without the energy costs associated.
The integrated PIR movement sensor on this solar security light can be adjusted both for sensitivity and time, so the bulbs can burn from between 10 seconds and 70 seconds per activation.
Easy to install the Solar Mate Secure Professional is supplied with all the necessary cable and wall fittings.
Full fitting instructions are included.
Features and Benefits of the Commercial Solar Security Light

• 2watt premium crystalline solar cell
• Light unit contains 45 white LED's and PIR
• Light unit is supplied with a rechargeable battery pack
• 4.5m connecting cable joins the light unit to the solar panel
• Wall fixings included
Related Products