London Solar Post Lights (Set of Two)
These Solar Post Lights are known as London Solar Post Lights and are part of the Silverlight range.
We no longer sell this item but a better alternative is our New Solar Garden Post Lights Here
Image of New Solar Garden Post Lights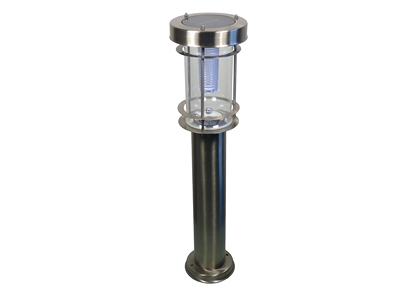 Made from the highest quality stainless steel the Solar Post Light (twin set) are designed to work reliably all year round even in the Irish climate.
Each Post Light contains 2 LED bulbs making them twice as bright as the majority of post style lights on the market. They make for a wonderful garden or pathway feature.
The corrosion resistant metal spikes on the Solar Post Lights set them apart from the run of the mill solar lights you find in many retail stores.
Solar Post Lights Features and Benefits
-          High quality stainless steel construction
-          Lighting time of up to 10 hours per night
-          Automatically switches lights on after dark
-          Overide on/off button included
-          2 x Super Bright LED Bulbs per Light
-          Mono crystalline solar panel
-          2 x 600mAh NiMH rechargeable batteries per light included
-          IP44 waterproofing
-          Dimensions 400mm height x 78mm diameter
-          Dimensions with Spike 578mm x 78mm
 Installing and Maintaining the Solar Post Lights
If the ground on where you will to place the Solar Post Lights is very hard it is a good idea to water the area and allow it to soak in so as to make it easier to put the spike in.
It is important to place the lights in a location which will get plenty of daylight and not in a shaded area. South facing locations are always best.
When you have found a good location
1. Push the spike into the ground
2. Remove the protective film from the solar panel and attach to the spike.
3:Gently ease the top of the light off by pulling it upwards. Locate the on / off switch which is situated on the underside of the top of the light and ensure that the switch is turned off and leave the light for 3 days to build up a base charge.
4: On the evening of the 3rd day turn the light on and wait until dark.
5: Repeat this charging process if your light runs low on charge at any time or doesn't appear to be staying on after dark for as long as expected.
6: From time to time clean the surface of the solar panels on your lights with a soft, slightly moistened cloth or a dry brush but do not use corrosive cleansing agents or chemical solutions since this may damage the housing surface or impair operation.
Related Products