Solar Bottle Light
This beautiful glass bottle light from Cole and Bright comes with a hanging rope allowing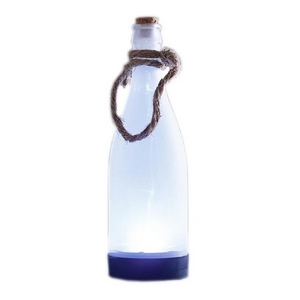 you to attach to trees but can also be used as a lovely freestanding table light when sitting out on fine peaceful summer evenings or if you are entertaining and dining outdoors.
You can change between normal white light or colour changing mode as your mode suits.
The bottle light recharges through natural daylight and automatically turns on at dusk and off at the first sign of daylight.
Solar Bottle Light - How it Works
The solar panel is internally fitted inside the bottle. It is connected to an AA battery (comes with product) which is fitted in the base of the bottle. Sunlight charges this internal battery so it is always best to position your bottle light where they are free from the cover of shade. If ordering more that one it is best to position them at least 5 foot apart in order to charge properly.