Loft Tent Attic Door Draught Excluder
Much of the investment that goes into insulating your attic against draughts in an effort to reduce your energy costs and keep your home warm can be undone when the attic access opening is not also insulated.
The Loft tent from IQ design insulates the access entrance into the attic.
It can be fitted to hinge from the end or side of the loft opening and is deep enough to accommodate conventional attic door ladders of up to 4 section.
See Loft Tent Product Video
What comes in the Loft tent kit?
4 Extruded profiles
2 Hinge Assemblies
2 Foil covered fire resistant 25mm thick foam boards 1200mm x 250mm
2 Foil covered fire resistant 25mm thick foam boards 600mm x 250mm
1 Foil covered fire resistant 25mm thick foam board 1256mm x 655mm (ceiling)
1 Roll of double self adhesive foam tape 4m length x 25mm width
1 Roll of single sided self adhesive black foam tape 4m length x 25mm width
4 Screws

How to Assemble the Loft Tent 
1: Identify and assemble the four sides of the box and use the polypropylene extrusions to the the corners as shown.
2: To ensure that the assembly is square measure across the diagonsis and incrementally

adjust the box sides until measurements X and Y are the same.
3: Use the double sided self adhesive tape to secure the lid to the box.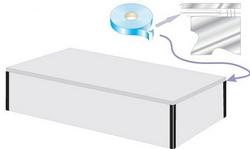 4: The Attic tent can be hinged on either the long or short side and this will depend on the
position of the attic door and roof pitch. Locate the hinges on the chosen side of the aluminum faced board by simply pushing over the edge of the material. They do not need any additional securing. Note that the screw down flap sections of the hinge project outside of the attic box.
Apply the single sided self adhesive black foam tape (shown red here) to the four bottom edges of the box to provide an air movement seal against the attic floor when the box is in the closed position. Note that the foam tape should butt up to the hinges and not be passed over them.
5: Secure both of the hinge plates to the attic floor or rafters with the screws provided. 
Note: The hinges used to secure the tent to the attic floor are normally pre-assembled as
shown here and it should not be necessary to adjust them in the event that the components are supplied as separate hems the assembly process is shown. The circlips which secure the steel hinge pin in position can be removed and relacted with a narrow pliers.
Related Products