Internal Letterbox Brush and Flap
This internal letterbox from the Irish manufacturer Exitex offers great door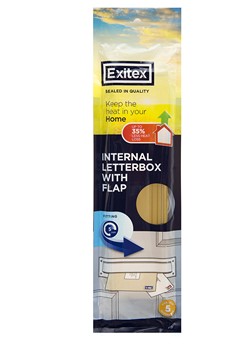 insulation and helps prevent cold draughts entering your home.
Available in White, Brown or a gold plated version.
Installing these internal letterboxes with internal bristles will ensure your heating system has to work less hard to ensure the room is at a comfortable temperature throughout the winter months.
It will also ensure rain, hailstones and dust don't enter your home through the letterbox.
For horizontal letterboxes
Moulded high impact pvc with long lasting bristle.
Spring closing flap
Stop draughts, dust, rain
For internal use only
This should fit well on the vast majority of front doors.
The gold flap measures 293mm (wide) and 77mm (height)
The white or brown flaps are 343mm (wide) and 80mm (height)
The Internal letterbox flap is made from moulded high impact PVC and includes a long lasting bristle and a spring closing flap which ensures it will not blow open and make noise when it is windy outside.
How to Fit Internal Letterbox Flap
1: Line up against opening on the inside part of front door opening and drill 4 screws (provided) and drill into position and you are done.
Related Products