Geosystem Ecological Ground Reinforcement System
Geosystem is a ecologic and modern ground reinforcement system (also know as porous tiles) which can be used to easily create a paving or grass grid.
An easy alternative to using heavy concrete pavement slabs, asphalt and other types of hardened surfaces the geosystem are made from 100% recycled HDPE and the grids are connected by means of self locking catches making the assembly of the system fast and easy.
The Geosystem is a great DIY ground reinforcement system allowing you to create a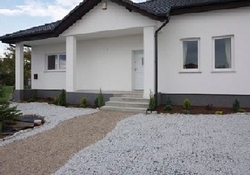 quality surface at a fraction of the costs associated with traditional ground reinforcement methods.
After sowing grass or using a gravel filler the geosystem grid becomes practically invisible and if you are creating a grass grid you can mow it, water it  and fertilise it like you would any normal lawn.
What can the Geosystem be used for?
Home & Garden Use
- Driveways
- Garden Pathways
- Pond Banks and Floors
- Home Surrounding (Gravel Draining Systems)
Sport and Recreation Use
- Cycling and pedestrian trails
- Golf buggy paths
- Camping sites
- Paddocks, horse studs
Industry and Construction Use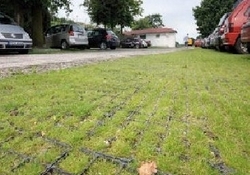 - Emergency service (Fire Access routes)
- Car parks (grass or gravel)
- Overspill / overflow grass car parks
- Service access roads
- Driveways and residential lawn / gravel parking
- Railway embankments
- Slope and embankment reinforcement
Advantages of Geosystem 
- Designed for maximum load transfer and supports up to 350 tons/m2.
- Counteracts the making of ruts and soil compaction
- Strengthens grass root layer, increasing the resilience and durability of the turf.
- Porous construction of the grid makes it possible for lawns to be irrigated and fertilized without difficulty.
- Fast and easy assembly
- Resistant to UV radiation and extreme temperatures.
- Made from 100% recycled materials.
- Porous grid ensures natural water circulation, precipitation penetrates to the soil and does not need to be led off to sewage.
- Allows you to easily increase green surface area of your property
- Will  reduce storm water runoff and store storm water on site
- The material the Geosystem is made from is elastic and thus the grid will bend under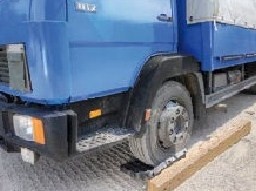 pressure but will not break.
- The geosystem is heavier than other similar products on the market. This ensures that the grid is stronger and carries heavier loads.
- The geosystem is black in colour making it invisible in the soil. Other products on the market tend to be green in colour but stand visually against the colour of natural glass.
- The Geosystem product has European Technical Approval and CE certified.
 Assembling the Geosystem 
1: Set out the shape of the surface using stakes and a line.
2: Remove soil until the appropriate depth is reached. This depends on the character of the surface.
3: Level and mechanically compact the base (using a tamper or surface vibrator)
4: Fill the unearthed part with base course up to the appropriate height, then level and compact it.
5: Pour sand and distribute it evenly over the base course. For a grid filled with grass a mixture of sifted compost with sand and pearl stone is recommended as the based (this will ensure better grass growth)
6: Grids should be placed in rows and connected with catches using a rubber hammer.
7: Lightly level the base using a compacting machine.
8: Grids should be filled as deemed appropriate.
Geosystem Specifications
| | |
| --- | --- |
| Dimensions (Single Grid) | 50cm x 50cm x 4cm |
| External Wall Thickness | 4mm |
| Internal Wall Thickness | 3mm |
| Weight (Single Grid) | 1.4kg |
| Weight per M2 | 5.6kg |
| Pieces per M2 | 4 |
Ordering the Geosystem
We sell the Geosystem in sets of 4 pieces covering 1 M2. Measure the surface you want to cover before deciding on the number of units you require.
Watch Industrial Geosystem Installation Video