Ecoegg Eggsterminator Scratch Free Cleaner
Cleaning with the Eggsterminator means that no chemicals are needed. Just add tap water for an odour and scratch free cleaning experience.
The eggsterminator is made from a brand new unique flex-tech material which changes function depending on the water temperature.
Use cold water on  the Eggsterminator and it becomes a firm, rough, tough and powerful surface ideal for  heavy duty scrubbing and cleaning but it wont scratch your surfaces.
Use warm or hot water with the Eggsterminator and it becomes soft, spongey and super absorbent, ideal for lighter jobs and can even be used on your skin.
By using just tap water and no chemicals the eggsterminator effectively tackles mould, limescale and baked on grease and grim.
See Eggsterminator Demonstration Video
Why Eggsterminator is better than Ordinary Sponges and Scourers
Ordinary sponges become a breeding ground for bacteria, but Eggsterminator's breakthrough flex tech material doesn't hold bacteria and is guaranteed to never smell.
If you put your fingers through the Eggsterminator eye holes it will allow you to clean right into tight places such as the bottom of narrow glasses without your fingers getting in the way.  Use the smiley mouth to effectively clean your cutlery on both sides at the same time!
Normal scourers scratch, but even though the Eggsterminator is strong and tough, it is guaranteed never to scratch any surface!
What else can the Eggsterminator Do?
When treated with cold water the Eggsterminator is great for removing sticky labels with ease and can even peel your vegetables without a blade in sight.   When warm it is so soft that you can even use it to exfoliate in the shower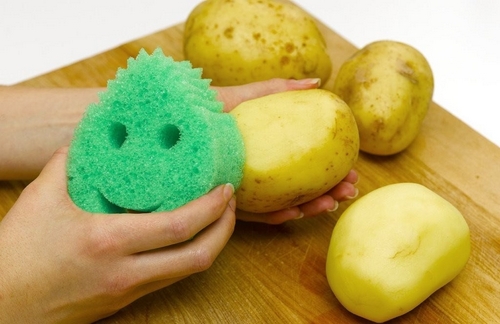 How long does an Eggsterminator Last?
Regularly clean the Eggsterminator in the dishwasher and it will be as good as new once treated.
One Eggsterminator used regularly should last 3 months before you need to replace it. Therefore a 4 pack should last you a full year.