Online Sales Figures Ireland 2013
Leitrim top money saving county as UK & Italy Dominate Internatonal Online Sales
County Leitrim is leading the way when it comes to saving money in the home according to Irish Online Store Purchase.ie.
Trading since 2009 Purchase.ie saw online transactions surge 45% during 2013 and now offer a range of over 300 products which primarily focus on helping customers to counter rising domestic bills. The product range has a large emphasis on Energy Saving and Water Saving Products.
The results are based on the total number of transactions completed through the web site during 2013 and comparing the number of transactions against the overall population of each county according to the 2011 census figures.
Leitrim with a score of 1.57 (Percentage of overall transactions divided by overall percentage of the population in Republic of Ireland) comes out on top followed by Co Clare with a score of 1.32 and Co Kerry with a score of 1.25. (See full list in graph at end of article)
Whilst 33.4% of all domestic transactions were delivered to Dublin addresses it was only fourth overall when taking the size of the population into account with a score of 1.21
When analysing provincial results Munster comes out on top with all counties in the provinces featuring in the top 11 in Ireland. (Clare 2nd, Kerry 3rd, Tipperary 5th, Waterford 7th, Cork 10th and Limerick 11th)
Of the 26 counties in Ireland Longford with a score of 0.38 came out with the lowest score. Cavan and Laois both with a score of 0.44 were joint 24th according to the results.
According to Purchase.ie owner Colm Griffin "When looking at the results many factors have to be taken into account not least the niche type of products we sell, access to good broadband and the fact that whilst the results are based on a decent sample size it represents only a very tiny fraction of the overall online orders in Ireland in 2013".
Whilst the majority of Purchase.ie transactions are still domestic, deliveries were made to over 20 countries in 2013 and international sales represented 6.3% of the overall orders completed through the site last year.
Not surprisingly 36.5% of these customers were UK based. Interestingly Italy, a country noted for having extremely high energy rates represented 15.9% of the overall international transactions through the site in 2013. USA (8%), Germany (8%) and Norway (4.7%)  complete the top five countries to order through Purchase.ie in 2013. (See full details in graph below)
According to Griffin who is also founder of the popular Meet-Up Group E-Commerce Ireland "It is extremely difficult to get international customers when working off a dot ie domain name and largely through a strong Search Engine Optimisation strategy Purchase.ie is probably pushing above its weight in this regard at present. I am keen to expand the business in 2014 and to go after the International Market more aggressively.
By creating country specific domains and using Multi-Channel platforms such as Ebay and Amazon I think this business has got legs.
Funding or investment will be needed to expand but if this happens I  would be very confident of creating good steady jobs in this area and building this into a successful international business. I'm keen to talk with anyone interested in getting involved."
Online Sales Ireland 2013 County by County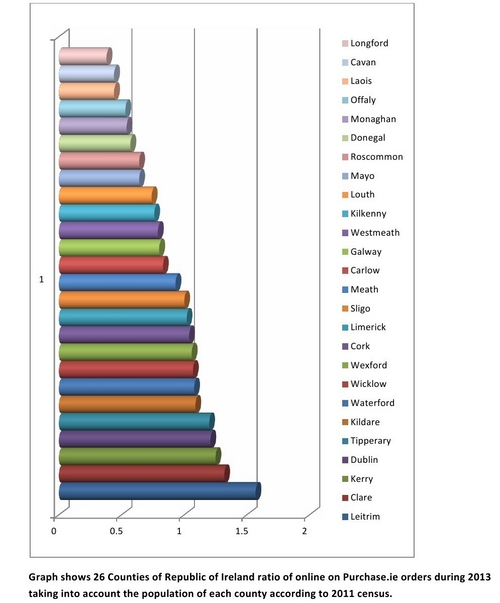 International Online Sales Ireland 2013
 Online Sales Ireland 2013 Related Posts
Top 10 Products for Online Sales 2013