Flourishing Irish e-commerce site now selling Irish exports into over 30 countries
Purchase.ie celebrates new website launch with dedicated section on Irish products
E-commerce website Purchase.ie, which specialises in a wide-range of high-quality and cost-effective eco products, have re-launched their website with news that they are now selling into over 30 countries worldwide.
Currently featuring more than 70 products that enable customers to save energy, reduce waste and conserve water, Purchase.ie also boasts several colourful and innovative eco-gift ideas, plus a number of safety-related products.
Significantly, the new site includes a dedicated section on Irish products and Colm Griffin of Purchase.ie is confident that his business can help green-sector Irish innovators achieve strong export sales.
"The business has been relatively successful in the Irish online market but there is a much bigger world out there," said Griffin. "One of the main goals of the business is to help Irish innovators achieve high export sales and by putting a great deal of research, time and resources into its development, we believe the revamped website – now set up to sell into over 30 countries – will go some way towards achieving this objective."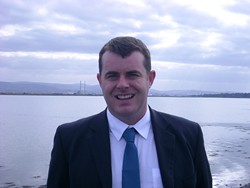 The new website which was designed with David Walsh of Zen Design has five main shopping sections. These are energy saving products, water saving, waste management, eco-gift ideas and the aforementioned dedicated section on Irish products.
"We already represent a number of Irish businesses that have come to us with some very innovativeand exciting products," Griffin added. "These include 'The Rad Booster' which is a heat reflective device installed behind radiators; a solar-powered address numbering system to significantly improve the identification of households and business premises at night time; and 'The Bin-Trasher', which featured on RTE's Dragons Den last year."
Other Irish products available through Purchase.ie include the 'Shatter-Safe Hurley', invented by Clare man Flan Marsh; natural handmade soap gift sets made in County Donegal, and a range of glow safety products designed by transition year students from Co Wicklow.
Meanwhile, Purchase.ie plan to represent Irish businesses at a series of international trade shows by 2012. "Attending these shows can be an expensive business so our aim for now is to attend a number of events on behalf of our clients as it would lower the costs involved for all concerned," explained Griffin.
"Therefore, we want to hear from more Irish innovators. If we are happy with the quality of their products we will be glad to add them to the Purchase.ie range and help market them to a global audience."
Purchase.ie is currently running a summer sale to help promote the revamped website. All customers can avail of a 15% discount on any product by visiting www.purchase.ie and inserting the promotion code 'summer2011'. Alternatively, they can call 01 8428187 and quote the code.