7 Ways to Wean Away from Addictive Console Games 
With rising obesity problems among Irish children and the time spent engaging with addictive console games a growing concern we feature 7 products below which might help to wean children from the consoles and encourage being active.
From an mental and physical educational point of view these games with test skills such as arithmetic, balance, agility, flexibility and hand to eye co-ordination.
The vast majority of the games below cost a fraction of the average cost of a console game. Best of all they encourage interaction with others (thats right kids are encouraged to talk to each other!)
Research clearly shows that excessive console gaming can cause unsociable habits and prove to be an isolating experience in the long run.
All the games below are suitable for all members of the family to take part in and enjoy.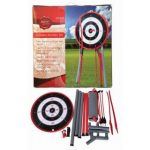 1: Garden Archery Set : Using a bow and arrows this will test your hand to eye co-ordination and keeping the scores will also help your mental arithmetic skills. Comes with safe to use rubber sucker arrows. Price €17.95
2: Rope Quilts: A game which will thoroughly test your throwing skills and great fun to play in teams at a garden party. Simply to assemble and play anywhere. Price €8.95 
3: Ringboard: A traditional Irish game from a company that make them here in County Kerry. Also a great test of mental arithmetic and hand to eye co-ordination. Boards come in various sizes. From €24.95
4: Jumbo Card Set: At 8 times the size of standard playing cards this gigantic cards are great fun when playing a regular game of cards, are great fun for building a doll house of for playing some quite humourous magic treats. Price €9.95
5: Giant Dominoes: A giant version of a classic game. Comes with giant 28 black and white pieces in set made from durable lightweight EVA foam. Price €11.95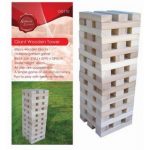 6: Giant Wooden Tower: Comes as a set of 60 wooden pieces. This set will test your balance and building skills to the limit. Price €26.95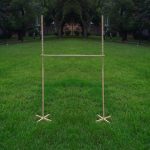 7: Garden Limbo: This wooden garden set is designed to test your flexibility to the limit as you try to crawl, bend or slide under stick at adjustable heights. Price €14.95