Draught Stop Cover
New from EcoSavers the Draught Stop  Cover allows you to recycle and use materials that may otherwise be binned  as a filler for a draught stopper which can help keep rooms in your home warmer during the winter months and help you to reduce your heating costs.
This Draught Stop Cover can be filled yourself using old newspapers, magazines, clothes, textiles, filling materials etc. Now you can
recycle waste materials and give these materials an energy saving
function.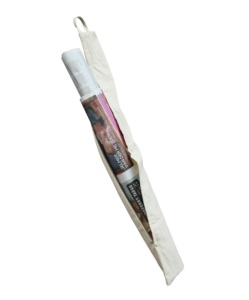 Traditional draught stoppers are factory filled by filling material (in many cases polyester) which means a lot of transport, warehouse and postal costs.
Advantages of Using the Draught Stop Cover
• Using own waste materials to fill like old textiles, newspapers, magazines, packing material etc.: recycling of waste materials
• More environmental-friendly: reduces transport and storage volumes and weight. Can be send by letterbox post.
• Easy to adjust length and thickness: therefore can be used universal for both doors and windows
• Made from canvas: 100% cotton natural material
• Easy to wash compared to traditional door draught stoppers.
• Combines energy saving with recycling
• Easy to store when not in use
Draught Stop Cover Dimensions
21 x 11 x 3 cm