Space Explorer 7 in 1 Solar Model Set
The Powerplus designed 7 in 1 Solar Toy Model set is sure to provide hours of entertainment for those interested in educating themselves about solar and hybrid energy.
It comes with a large 48 page user manual with detailed descriptions (in many languages) and diagrams to help pull each individual model together.
Requiring a great deal of concentration and patience the Space Explorer is suitable from children of 10 and older.
Once made each model moves through the power of natural daylight through the included hybrid power micro battery and solar panel.
The solar panel can also be powered with 2 AAA batteries which are not included with the kit.
The Space Explorer contains a number of small parts and needs to be kept out of require from small children under three as the small parts are a potential choking hazard.
What models can you create with the Space Explorer?
1: Astronaut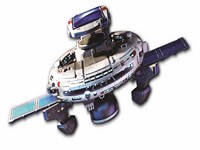 2: Space Station
3: Space Shuttle
4: Space Jeep
5: Space Explorer
6: Space Dog
7: Space Soldier
Related Products