Solar Power Station
The Solar Power Station (SPS) system is a micro renewable energy generator, designed to not only to supplement to mains fed power and also work completely independent from the grid.
The SPS range is purpose designed to provide power where installing mains cable would otherwise be far too expensive or inconvenient.
Ideal for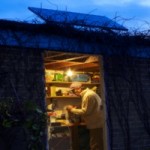 - Garden offices
- Workshops
- Garages
- Building site huts
- Agricultural buildings
- Stables
- Sports facilities
- Garden sheds
- Summer houses
- Static caravans
What is included in the Solar Power Station Kit
- Powerful crystalline solar cell panel
- Multi-position aluminum solar rack
- 300W Inverter
- 20 meter x 2mm solar cable bundle
- Sealed deep cycle solar 85ah battery
- RCD Socket
- Digital multimeter (System diagnostics)
- All weather battery box with built-in charge controller
- Power meter
- All connectors, fuses and terminals.
- Instructions Manual
Installing the Solar Power Station
1: Position the solar panel where it will get most daylight.
2: Install battery in all weather battery box
3: Connect solar panel to the battery box.
4: Connect invertor to the battery box
5: Switch on.
6: Start using your free solar power
Choosing the Solar Power Station Model you Require
Solar Power Station Performance
In Ireland solar works most efficiently in the Spring, Summer and Autumn months.
Solar is still effective in the winter but the performance is much reduced. The table
below shows the expected performance of an SPS system over 9 months of the year.
Please note that the above applications are based on typical usage of 2-4 hours per day
in Ireland. Longer run times may require a bigger kit or the purchase of an SPS Expansion panel. Shorter run times may enable a smaller SPS kit to be selected.
For more information read the Solar Power Station Questions and Answers Page.