Safety Walking Stick
The Folding Safety Walking Stick from Ventus combines the latest in technology advances to provide the user with a product which offers convienence, versatility and security all in one.
This folding stick promotes exercise and not wasting money on the ever increasing price of motor fuel.
The Safety Stick is simple to fold when travelling or sitting down through a one touch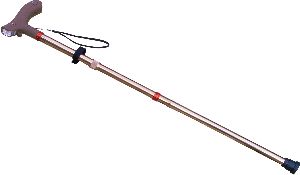 mechanism and the ergonomic hand grips includes a bright led light at the head of the stick with beams shining both forward and downward for good foot fall illumination.
The stem of the stick also features high-visibility bright red flashing strobe lights for added roadside safety.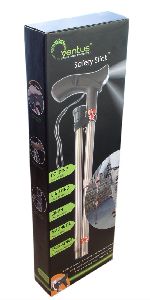 This Safety Walking Stick also includes a built in audible alerter to attract emergency attention whenever is required.
All these functions are powered by a rechargeable Lithium cell which can be mains charged by plug in or through an internal induction charger (wind-up) so that you will never be stranded without power or light.
The handgrip also includes a powerful magnet for easy retrival of dropped keys, coins etc
A wrist strap is also included for added convenience and a velcro storage strap so that the stick can be fixed around chair, tables, railings and bedposts.
The shaft of the Safety Stick is height adjustable 80cm-90cm (31.5 to 35.5 Inches Approximately) and thus is quite flexible and easy to use whatever your height.
Safety Walking Stick Specifications
| | |
| --- | --- |
| Working Voltage | 3.7 v |
| One Minute Cranking ( 2 turns per second) | Up to 7 Minutes LED Light |
| Charging from Mains Adapter | Fully Charged in 1 ½ hours |
| When Fully Charged | Up to 2 ½ hours LED light |
| Product length (folded) | 45cm (1 fold) 38cm (2 folds) |
| Max User Weight | 95kg (15st) |
| Min Height / Max Height | 80cm (31 ½ Inches) / 90cm (35 ½ Inches) |
| Contents of Box | Folding Safety StickUniversal Mains ChargerWrist Strap and Stowage StrapUser Instruction Manual |