Far Infrared Panels (Ready to Use Kits)
This product has been replaced by an improved similar product from a different manufacturer. See new far infrared panels here
Eliminate the need to get an electrician to install your Far Infrared Panels by buying these complete Far Infrared Panel Kits. All you got to do is screw the supplied fitting to your ceiling or wall!
The Kit includes
- Far Infrared Panel (available in 5 sizes depending on room size)
- 6 Meter electric cable and plug (attached to panel)
- Plug in thermostat and timer so you can control the temperature panel runs at and the length of time it is on for.
- Screw in fittings
Click on the below links for further information about Far Infrared Heating Panels.
Features and Benefits of Far Infrared Panels.
Typical Savings by Installing Far Infrared Heating Panels
How to decide what size Far Infrared Panels you Require.
How Far Infrared Heating Panels Work
What our customers are saying about the Far Infrared Panel Kits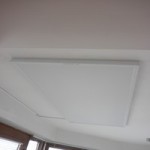 March 17th 2012
"Got the far infrared panel up and it is working great.  A fantastic investment and the heat is superb, works perfectly with the plug in thermostat and controls on and off as needed.  I have attached some pics for you, could be investing in another one soon"
Mark, Co Leitrim