Eco Laundry Liquid
This non-biological laundry liquid from Ecozone is made from powerful plant extracts which will clean your clothes naturally.
A non-toxic detergent this Eco Laundry Liquid targets stains and dirt organically leaving everything wonderfully clean.
You will get up to 25 washes with 1 litre bottle and up to 50 on 2 litre bottles.  The new innovative Non-Bio formula cleans tough stains like wine, grass, grease, tomato, etc.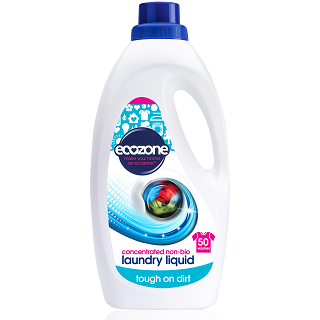 With its specially developed plant-based ingredients it cleans on cool washes and is great on whites and colourfast laundry as well as being gentle and kind to skin.
Built against Ecocert to match the cleaning performance of the best non-eco brands. Fantastic cleaning power without additives and harsh chemicals.
Not tested on animals and certified by the Vegan society the Ecozone Laundry Liquid comes in 1.5 Litre bottles and is completely free from
- Dyes
- Petrochemical derived cleaning agents
- Synthetic preservatives
- Phosphates
-Boron
- Enzymes
- GMO (Genetically Modified Organisms)
- Optical Brighteners
Eco Laundry Liquid Ingredients
5-15% Non-ionic surfactants
<5% Soap
Anionic surfactants
Propylene Glycol
Citric Acid and Sodium Citrate
Also contains fragrance and sodium hydoxymethylglycinate.
* 100% safe for use with septic tanks.
Related Products