Solar Thermometer
This solar LCD Thermometer is suitable to use both indoors and outdoors. Designed by Powerplus this product is also know as the Parrot.
The digital display screen shows you the current temperature in real time. It will also show you the maximum and minimum temperature over the previous 24 hour period.
See Video of the Solar Thermometer
The digital thermometer comes with an integrated solar cell which extends the battery life of the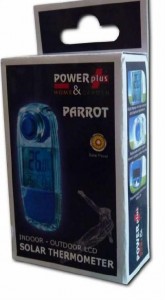 product. It also includes an interchangeable suction cup for indoor and outdoor mounting.
This weather thermometer is great to use in the garden, the greenhouse or to measure the room temperature.
We love to talk about the weather in Ireland and this small and compact device will allow you to add to such discussions in a more meaningful and accurate fashion.
Related Products